Presentation Night 2018
Our Annual Presentation Evening will once again be held at the Fisherman's Retreat, Ramsbottom on Friday, February 23rd from 7:00 until late. It promises to be a fun evening with food, prize-giving and games.
All welcome - Adults pay £5 at the door, 16 and under entry free.
Our next Trial - February 24th
Inch Perfect Trials Novice / Beginners Series - Round 1

Start time 2 pm - Sign-on from 1pm

Location is at Top Quarry, Lothersdale - which is on Hawshaw Road on the approach to Lothersdale from Colne

If coming from Colne, take Skipton Old Road from the small roundabout leaving Colne. Follow the road past Colne Golf Club for about 3 miles until there is a fork in the road with Hawshaw Road to the right. Drive on here and Top Quarry will be to your left.

If you can bring an observer, please contact Chris Chew, 07841071375

Save time on the day - download and complete your entry details in the comfort of your home…
Tom Ollerton - Founder Member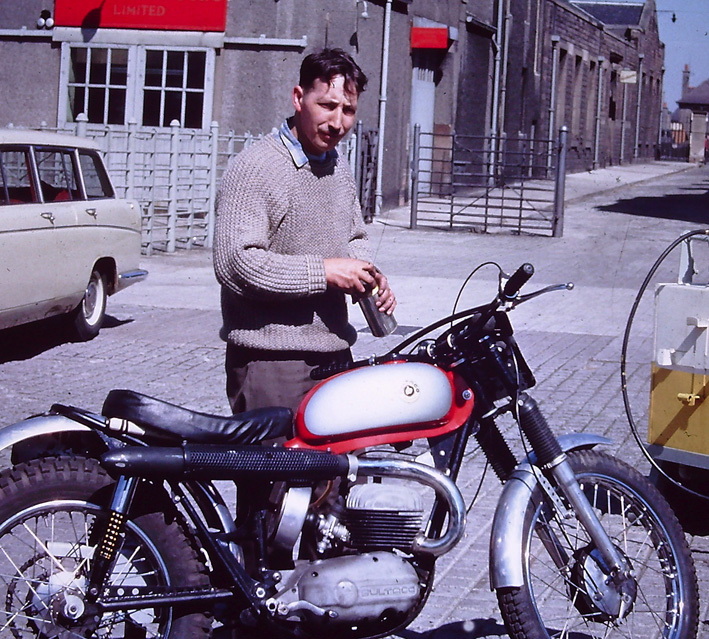 Sadly, we have learned of the passing of Tom Ollerton. Tom was a founder member of the club and served as Secretary. He died in Haydock nursing home on Dec 25th aged 91. Funeral arrangements available at Edwin Ainsworths , Churchbank Street, Darwen. Our deepest sympathies to his family.
Here is a fascinating summary of Tom's motorcycling years copied from Trials Central and submitted by his son, John.
My father, Tom Ollerton, who was a very keen rider in the 1950s and 60s has passed away at the age of 91. Dad was a very active member of Darwen Motorcycle Club in Lancashire, and competed in the Scottish Six Days Trial many times. He worked for many years at Anelays Motorcycles in Blackburn, who were the original concessionaires for Bultaco in the UK. In 1962 Dad became the first man to ride a Bultaco in the Scottish (his was the only Bultaco entered that year). He rode it again in 1963 where, once again it was the only Bultaco entered.  In 1964 he was joined by Oriol Bulto, who was most impressed by the modifications that Dad had done to his machine to convert it to a trials machine, as you can see from his letter of June 1964. 
Annual General Meeting - November 15th
This year's AGM took place on Wednesday, 15th November at the Fisherman's Retreat, Ramsbottom and was attended by eight members.
The following officials were appointed for the coming year:
Chairman - Steve Collinson, Vice-Chairman - Martin Jackson, Treasurer - Steve Collinson, Trials Secretary - Alex Sykes, Membership Secretary - Ian Capper, Publicity Secretary - Barry Sanderson, Observer Organiser - Chris Chew.